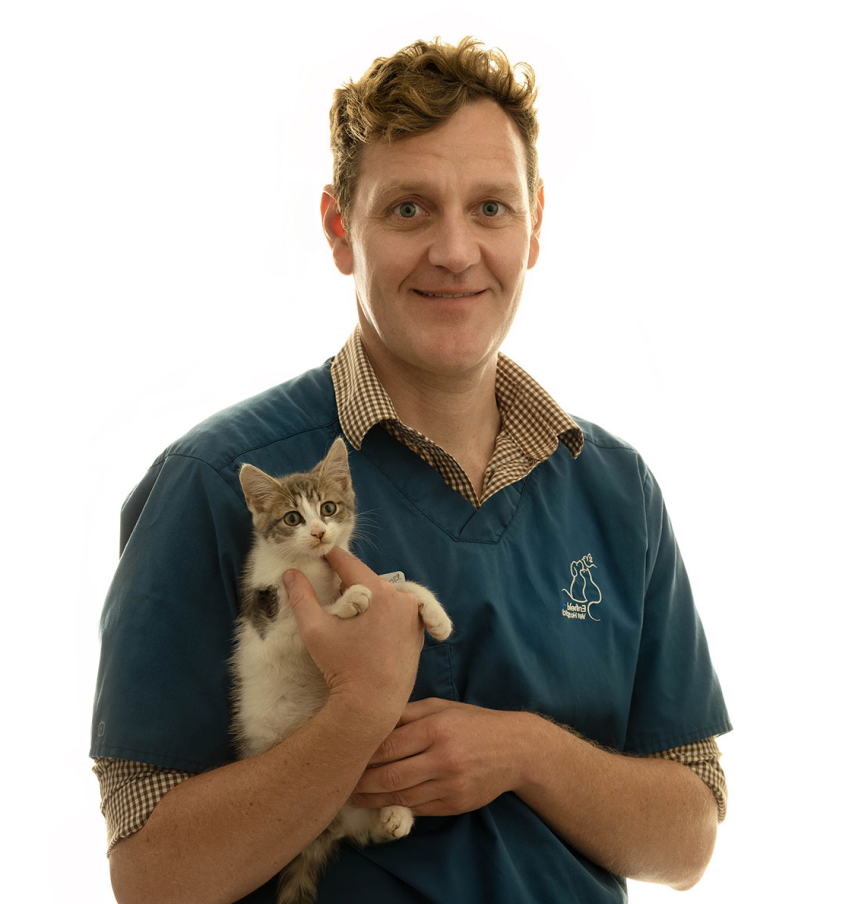 Dr Greg Behm BVSc, MVS (Practice Owner)
Small Animal Medicine and Surgery
Greg graduated from Sydney Uni along with Olivia and Michael in 2001. Since then he has worked in small animal practice in Sydney as well as 3 years working in the United Kingdom.
He completed a Masters Degree in Small Animal Practice, focusing on medicine, surgery, radiology and pathology in 2009.
Greg started at Enfield Vet in 2011 and became a partner in 2012. He enjoys all aspects of small animal clinical practice from complex medical cases to ultrasound and surgery.
Greg has a household with children and a plethora of pets including 2 dogs, a cat, a snake, a praying mantis and around 10 cherry shrimp.
Dr Michael Morrice BVSc (Hons), MVS (Practice Owner)
Small Animal Medicine and Surgery, MANZCVS
Michael graduated from Sydney University with both Greg and Olivia in 2001. Between 2001 and 2010 he worked in both Sydney and London. He gained his Masters Degree in Small Animal Practice in 2009 and became a Member of the Australian and New Zealand College of Veterinary Scientists in 2010.
In 2011 Michael moved to London to become a partner at Maven Veterinary Care. During his time in London he did a Royal College of Veterinary Surgeons residency in Surgery at North Downs Specialist Referrals under the mentorship of Terry Emmerson. He has published on intestinal tumours in both dogs and cats (see links below).
Michael is married and has three children and a dog (a one-year-old Spoodle called Poppy, as seen in his photo).
Publications
1. httpss://www.ncbi.nlm.nih.gov/pmc/articles/PMC6682799/
2. httpss://www.ncbi.nlm.nih.gov/pmc/articles/PMC6498519/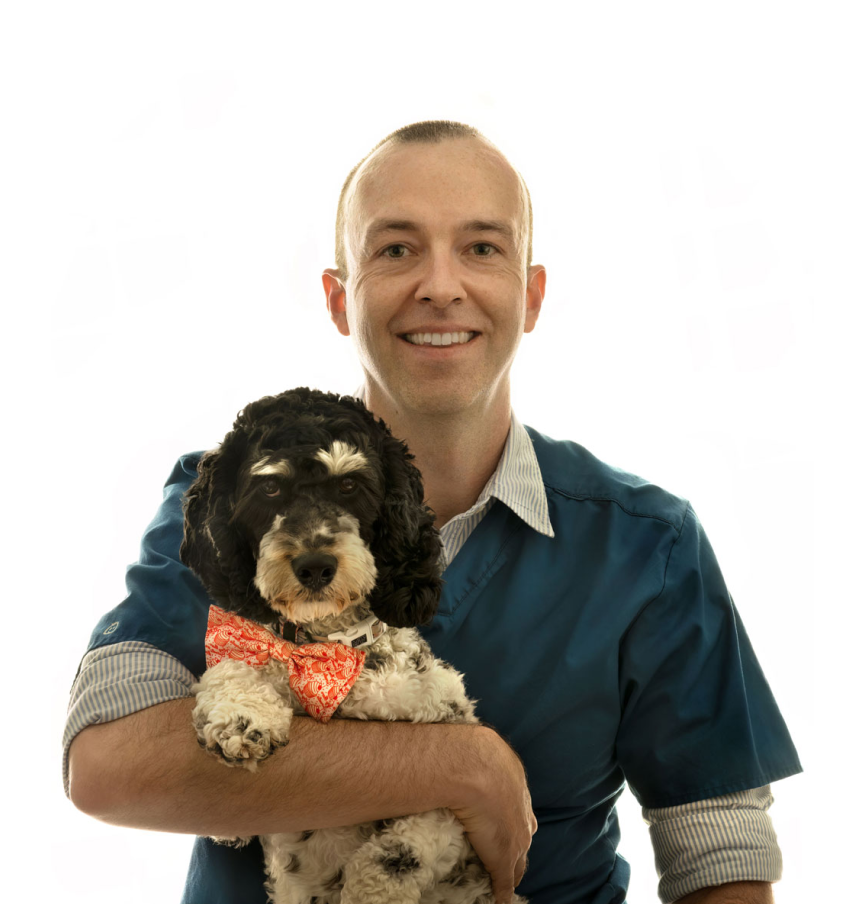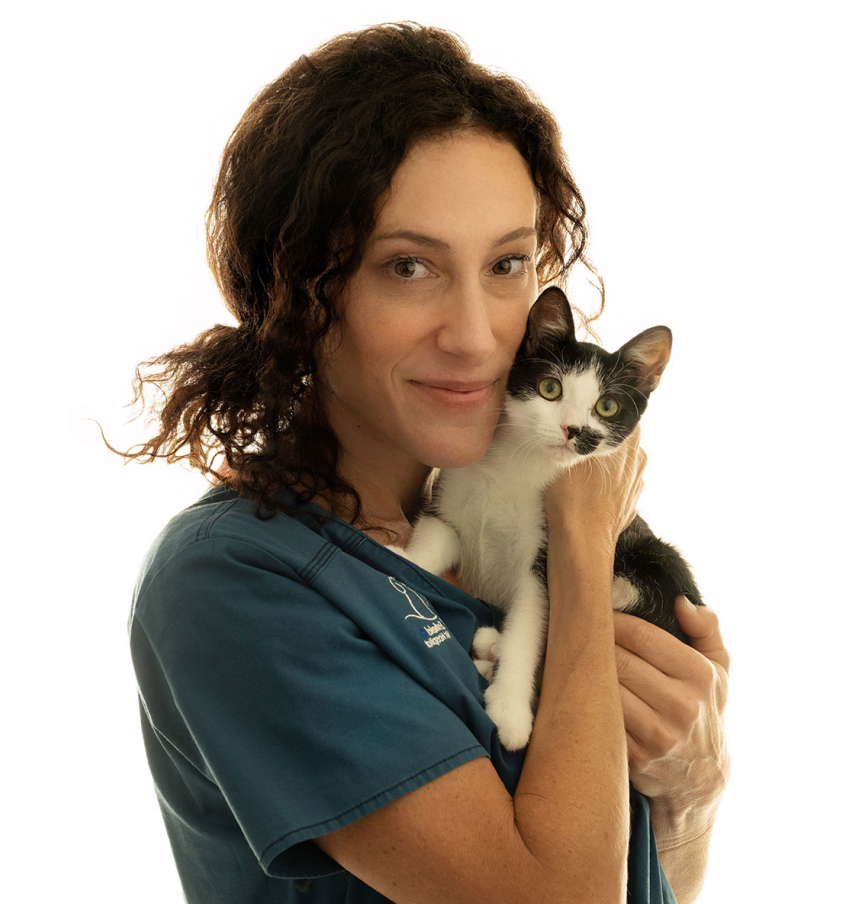 Dr Olivia Hassin BVSc, IVAS, MVS (Small Animal Medicine and Surgery) (Practice Owner)
Dr Erika Chan BVSc, MANZCVZ (Behaviour)
Originally from the sunny shores of Singapore, Erika graduated from the University of Sydney in 2016. She started at Enfield Vet in 2019, after previously working in the high volume clinic of the RSPCA (Hunter Region). Her areas of interest include small animal surgery and animal behaviour. Erika has trained extensively in behavioural medicine and has now been admitted to the Australian College of Veterinary Surgeons, Behavioural Chapter.
Erika is passionate about helping pets and their owners understand each other and strengthening the pet-owner bond.
She shares her heart with Tobie, her ginger domestic short hair girl (looking stunning in her red scarf!) and Leopold, her one-eyed domestic medium hair boy.
She also speaks conversational Mandarin and can help clients who may not speak English as a first language understand what their pets need.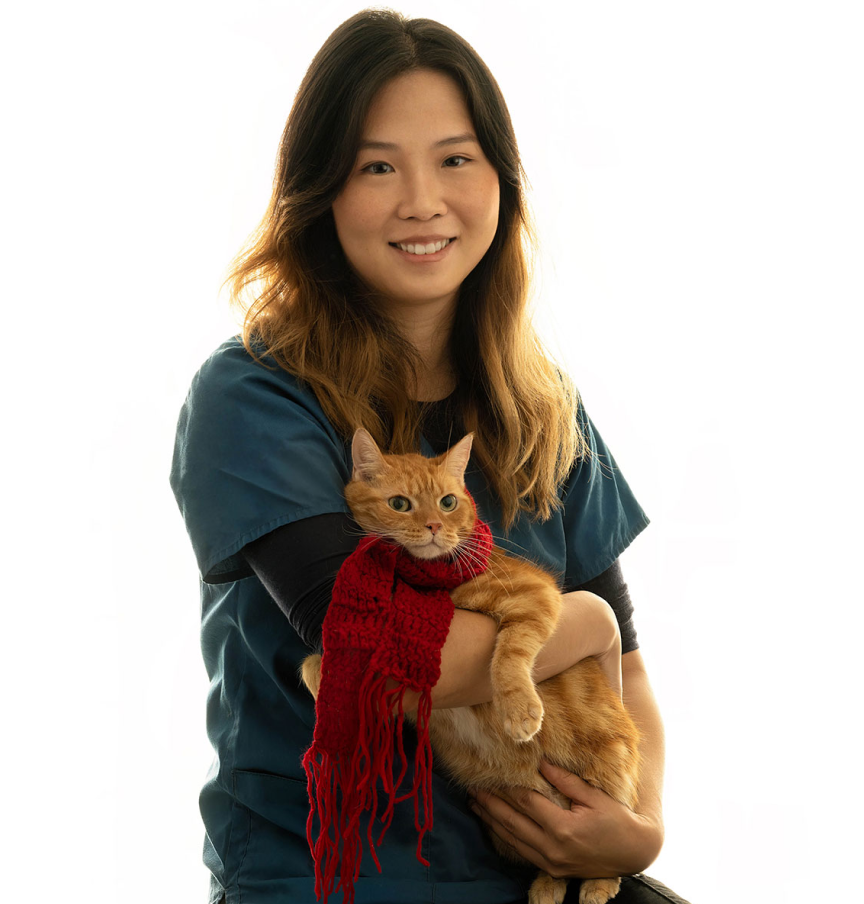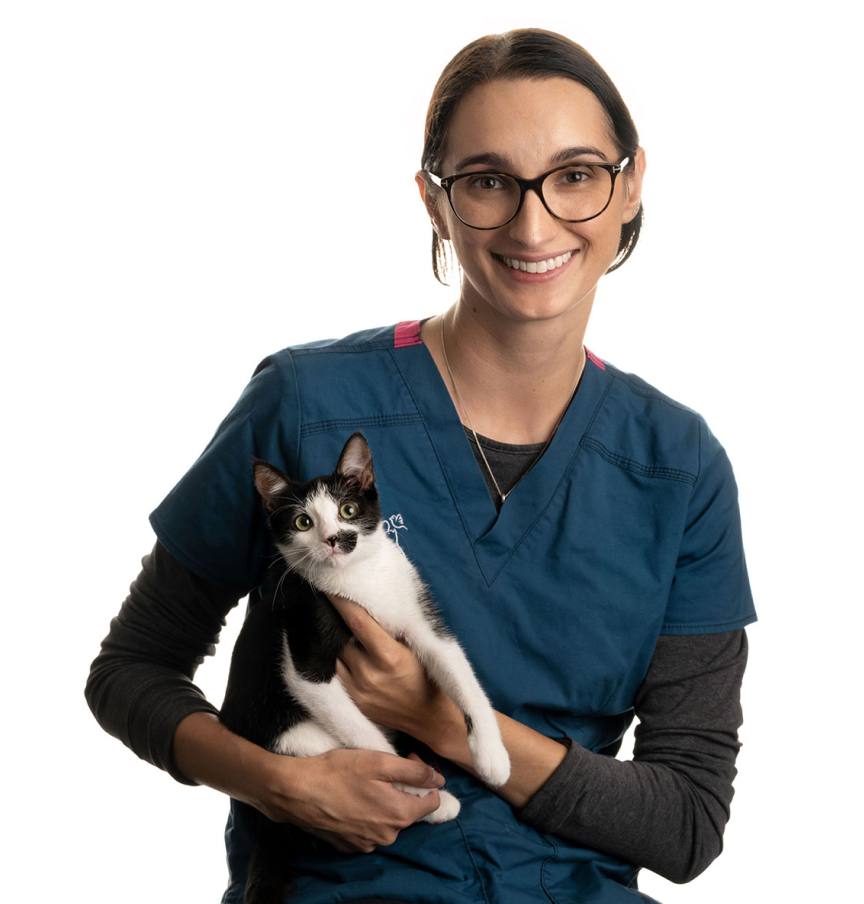 Karlee graduated from Sydney University in 2013 and joins us after a two year stint working in mixed practice near Lake Macquarie followed by a year working in small animal practice in Sydney at Waterloo. She joined Enfield Veterinary Hospital full time in 2016.
Karlee has completed a two year long distance education course in Feline Medicine so is at the very cutting edge of the newest and best treatments available for all our feline patients.
Karlee is a local girl, having grown up in Strathfield, and is very excited to meet everyone and look after all your pets.
At home she has a beautiful Doberman Fletcher and a Domestic Short Haired cat called Sophie.
Ashleigh has been nursing since 2006 and completed her Certificate IV in Veterinary Nursing in 2010.
She worked at Enfield Veterinary Hospital back in 2011, before moving to Western Australia. When she moved back to Sydney in 2014, she came straight back to Enfield Vet where she has been Practice Manager at Enfield since 2019.
Ashleigh enjoys going rock climbing and attending NBL games when not at work. At home she has a cat called Adrian, a Jack Russell mix called Doris, a Conure called Kermit and a Groodle called Elvis.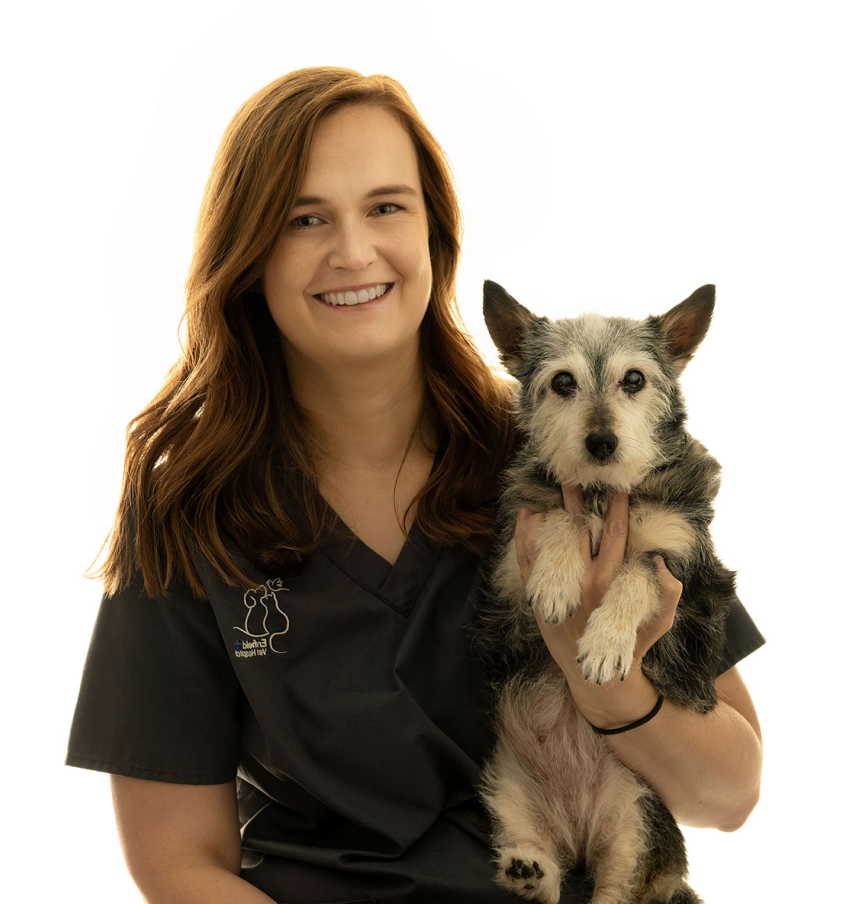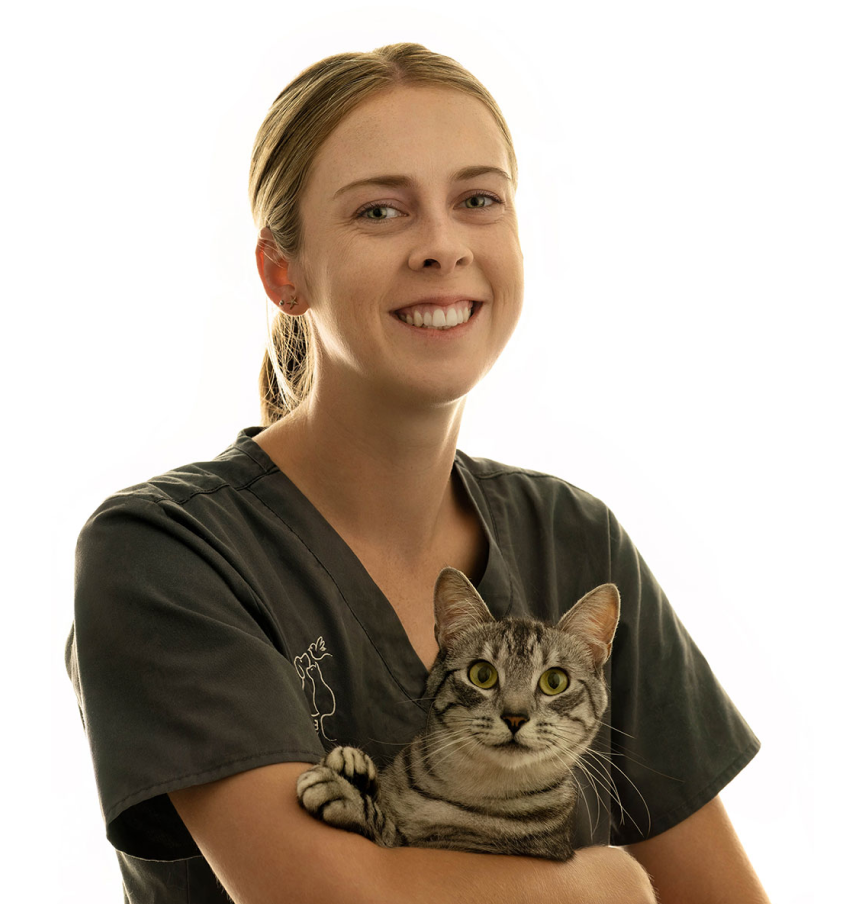 Ashleigh completed her Certificate IV in Veterinary Nursing and started at Enfield Veterinary Hospital in 2017. She loves every aspect of her job, especially medical nursing and ensuring that clients and their pets feel as safe and comfortable as they can.
Ashleigh has two fur babies who live with her parents, Sparky (a feisty domestic short hair) and Peppa (a loving and devoted Kelpie). She also has Franklin who is a domestic short hair who has asthma. He also loves the water and has his own floatie for the pool!
Tania has been vet nursing since 2013 and joined Enfield Vet Hospital in 2019 having previously worked as a head nurse and manager at a busy Sydney clinic.
Tania's nursing interests include assisting in surgical and medical procedures, patient care (especially chihuahuas and other tiny dogs) and utilising her organisational and problem-solving skills.
When she isn't at work Tania enjoys spending time with her family and friends especially her young daughter, as well as her adorable senior chihuahua Eve (pictured).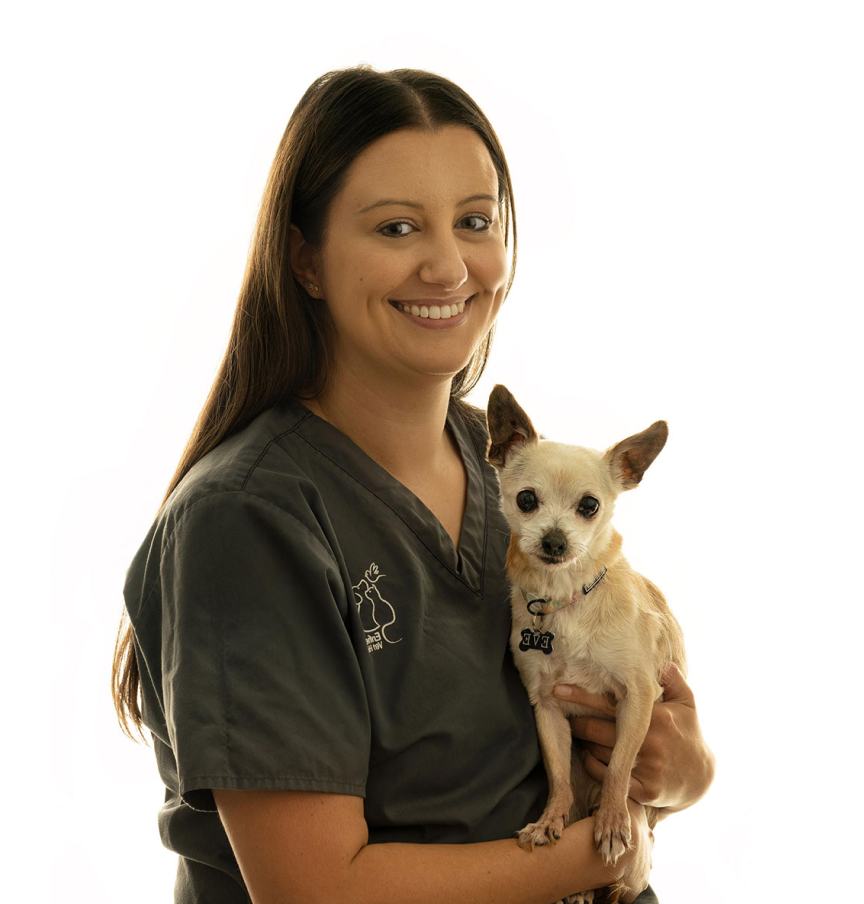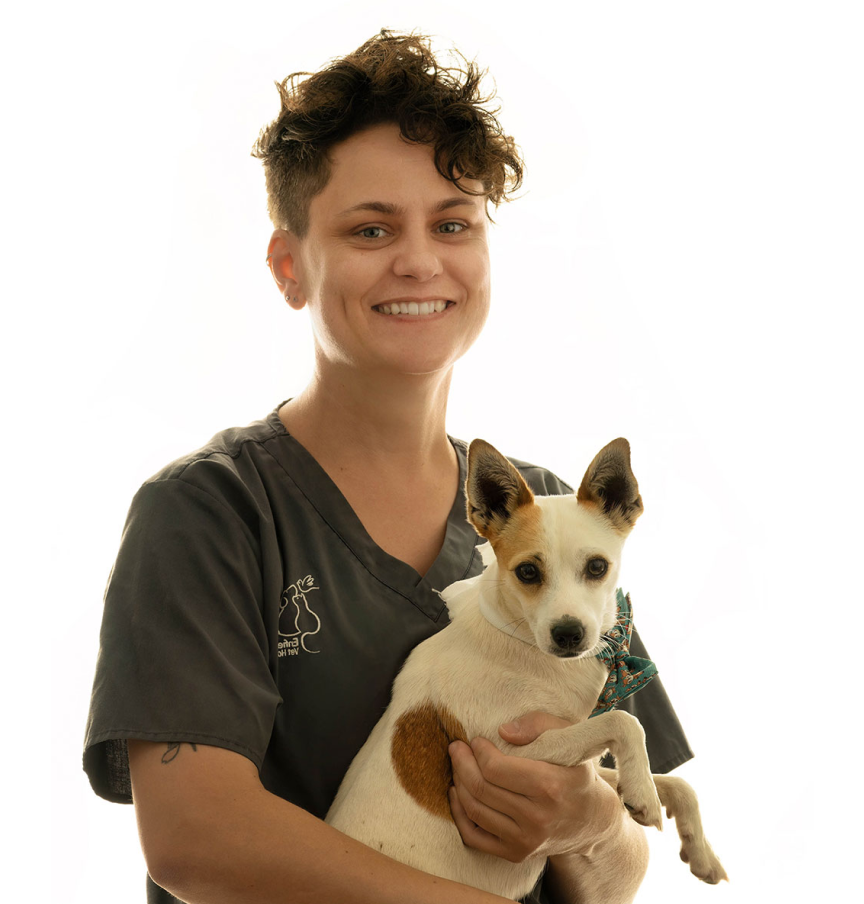 Ali joined Enfield Vet in 2021. She comes from a background in Emergency and Critical Nursing in a 24-hour hospital and also has experience and knowledge with pocket pets. Ali's favourite part of nursing is monitoring anaesthetics and patient recovery.
Ali doesn't have pets of her own currently but gets constant updates of her niece's pets Fluffball and Mint who are two very loved guinea pigs and Gumnut the stick insect.
Rebecca has been with Enfield Vet since 2017. She enjoys all aspects of veterinary nursing, in particular radiography and anaesthetic monitoring.
Rebecca adopted her scruffy Terrier mix, Daisy, from our pound, and also has two Siberian Forest cats – Amber (who recently became a blood donor) and Natalia.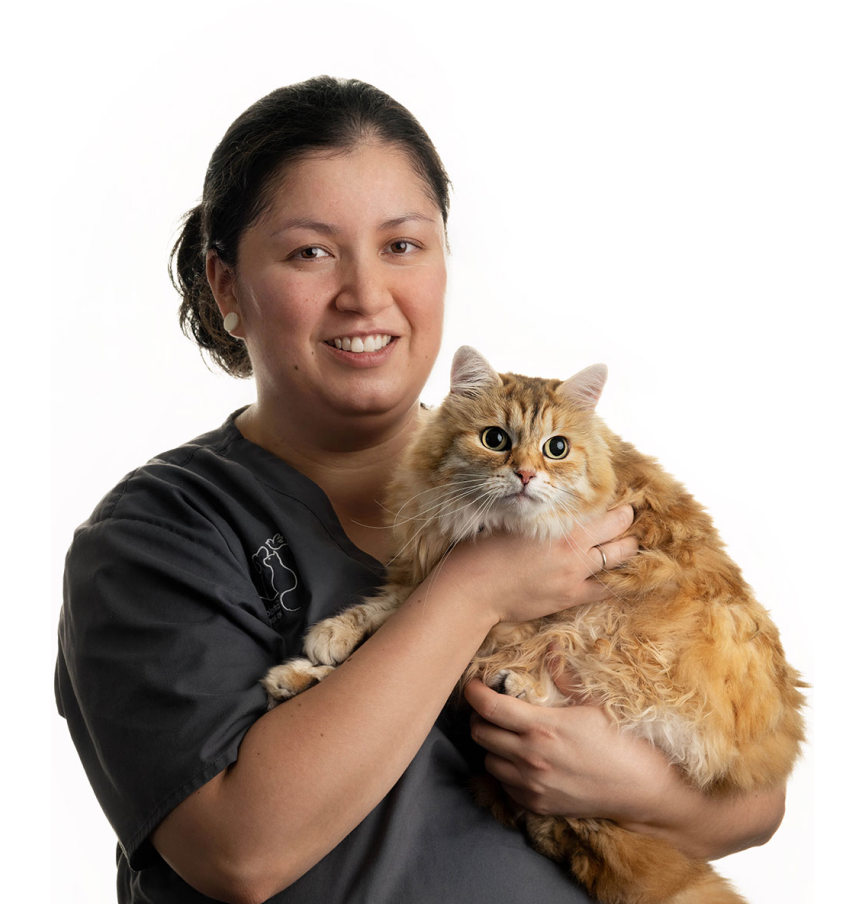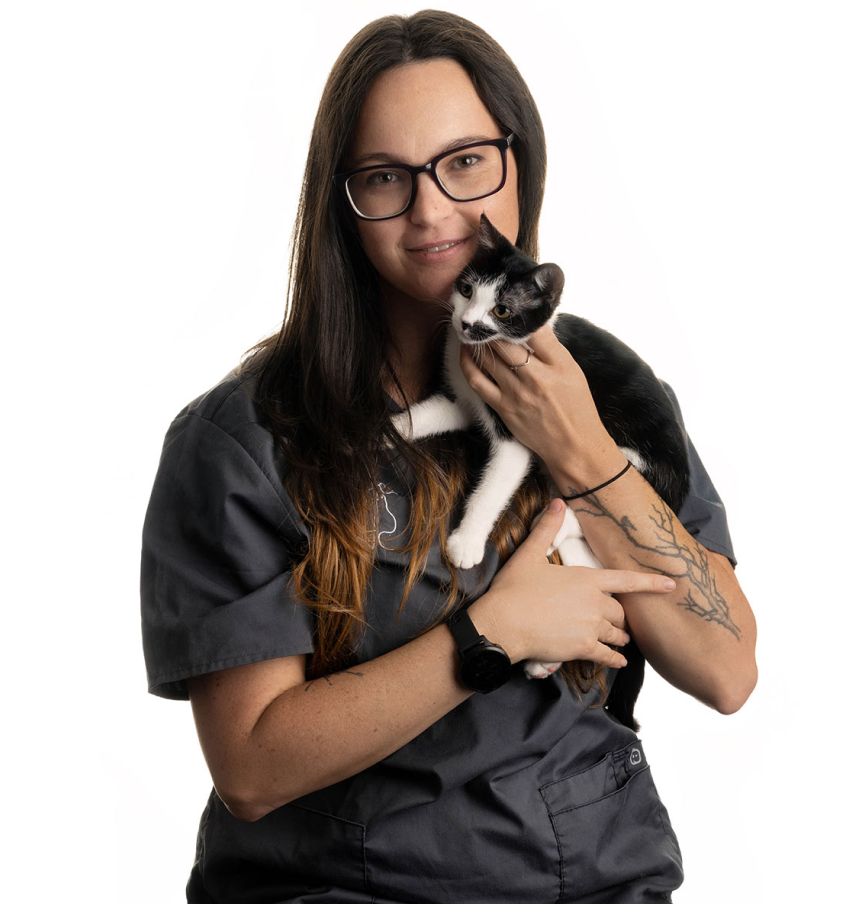 Vicki started working at Enfield Vet Hospital in 2019.
She loves border collies and has had them as pets since she was 6 years old! She currently has a 7-year-old border collie named Bear, a 7-year-old matching black and white cat named Lola, and a 3-year-old human child. These three keep her busy but she somehow finds time to read a lot of books, especially Stephen King and psychological thrillers.
Dana started at Enfield veterinary hospital in November 2009, while studying animal and veterinary bioscience at the university of Sydney. She has always loved working with animals, and continues working at EVH, while also working full-time in medical research.
Dana LOVES CATS and has two spoilt Burmese cats called Devon and Willis, who keep her very busy in her spare time!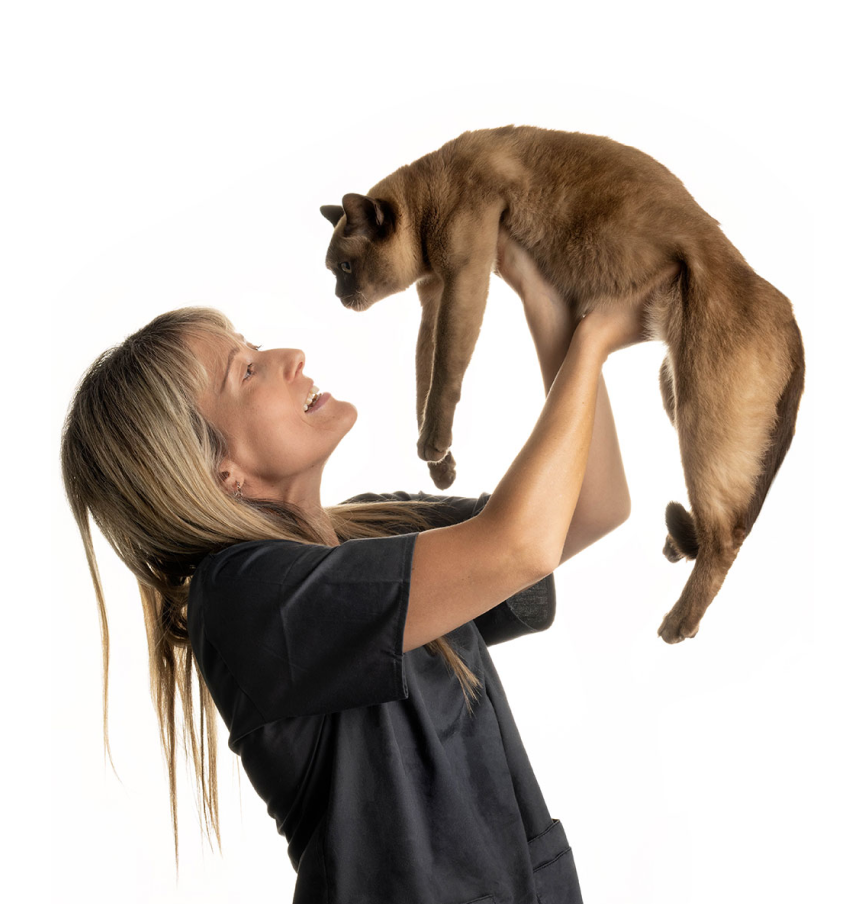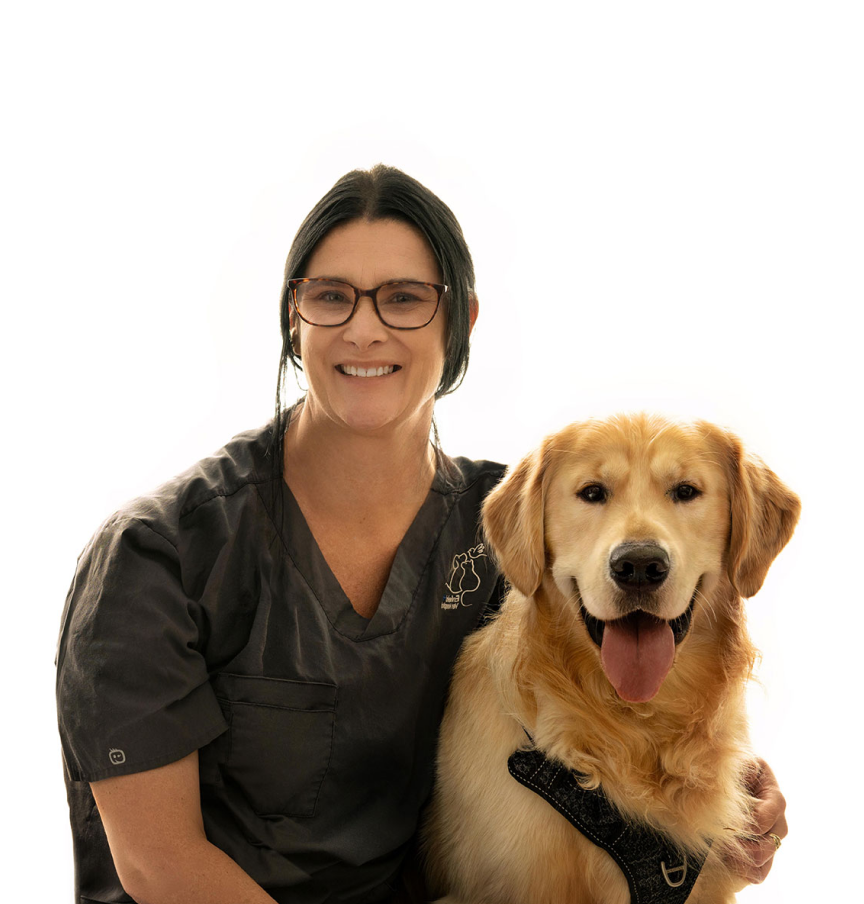 Melissa has been working in the veterinary industry since 1995 and loves her career. She started at Enfield Vet in 2014, having done nursing throughout Sydney Hospitals before that.
She started as a kennel hand whilst still at school, before moving into veterinary nursing a couple of years later. Melissa has four children who share her passion in animal care. As well as the 2 legged children she has two cats, Maggie and Alvin, and a Beagle mix called Cooper.
Her favourite part of nursing is assisting with medical and diagnostic procedures to help animals get back on all four feet as quickly as possible.
Customer Service and Boarding Assistant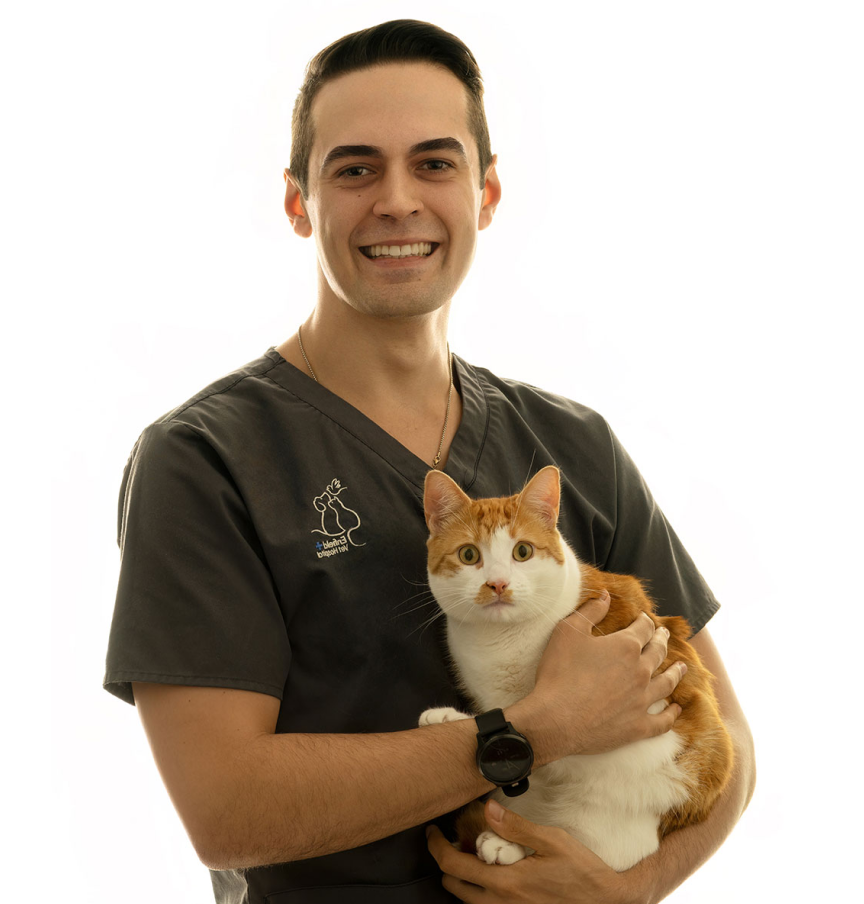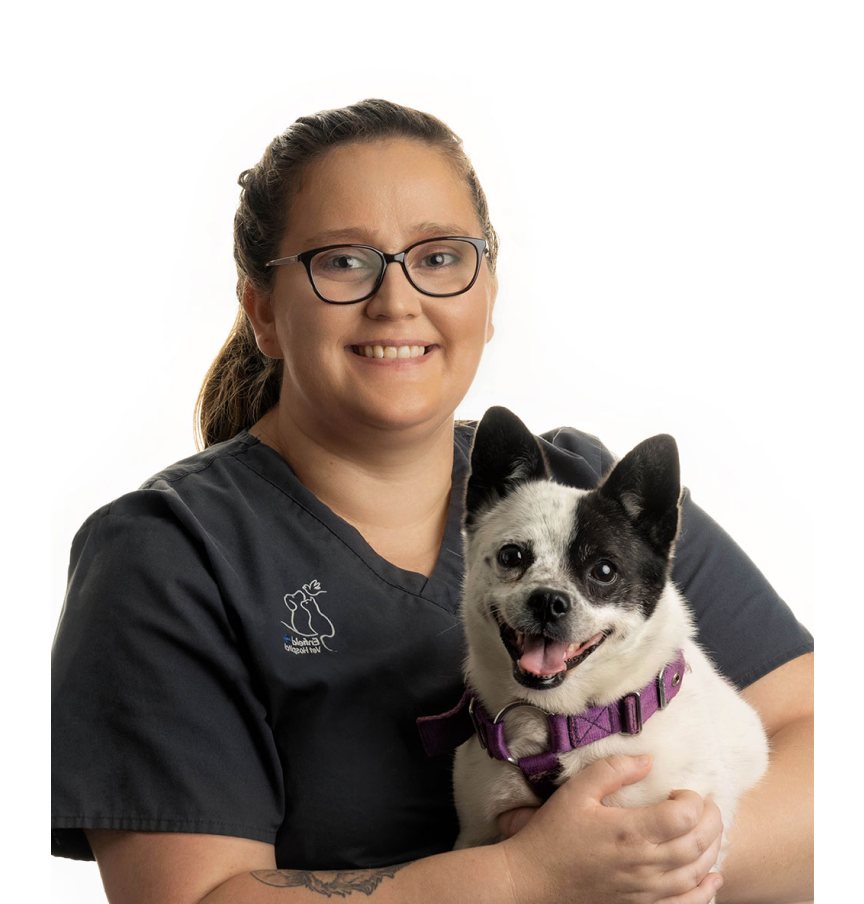 Katy is our friendly receptionist who started in March 2022. She has worked in a range of roles from veterinary nursing to medical research and working with dangerous dogs in animal shelters. She also runs the puppy preschool at Enfield Veterinary Hospital and has a passion for animal behaviour and charitable rescue and respite work in regional NSW.
Katy's hobbies involve being outdoors with her dogs Lara (pictured) and Jaeger whether it be camping, four-wheel driving or touring across Australia. She also is a Maine coon fanatic and has three Maine coon cats at home.
Rochelle has been with Enfield Vet since the start of 2022 where she started as a student veterinary nurse. She graduated in 2022 with her Certificate IV in Veterinary Nursing.
Rochelle has always had a passion for animals and loves spending every day doing something that she is passionate about. She then gets to return home to her fur babies who she loves endlessly.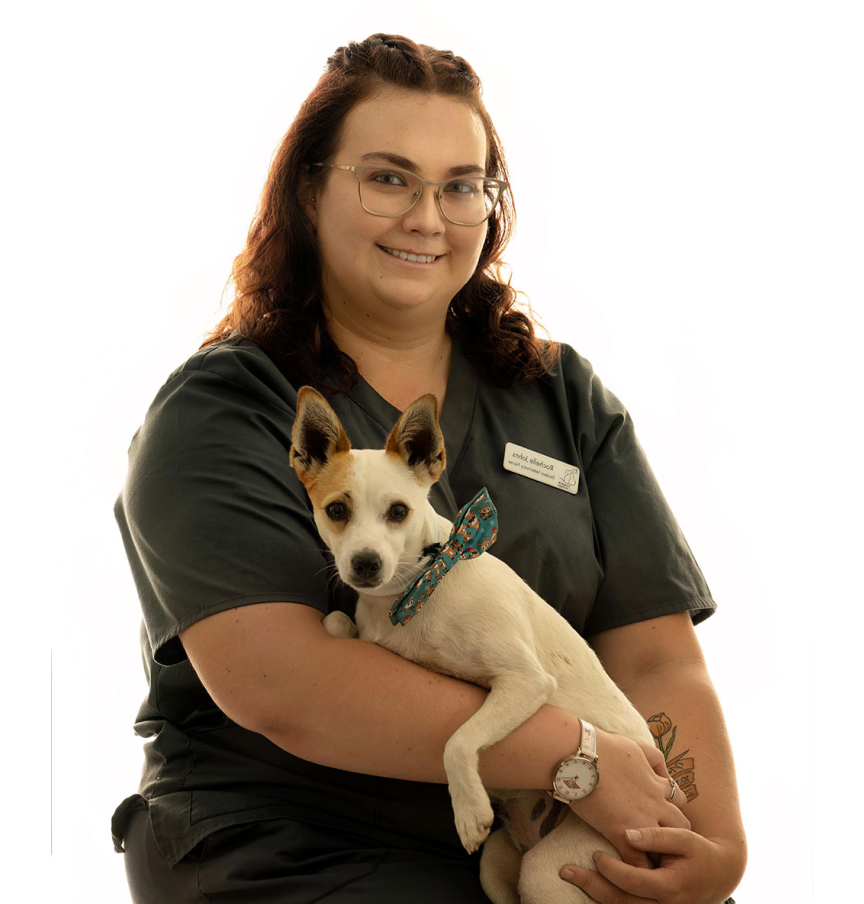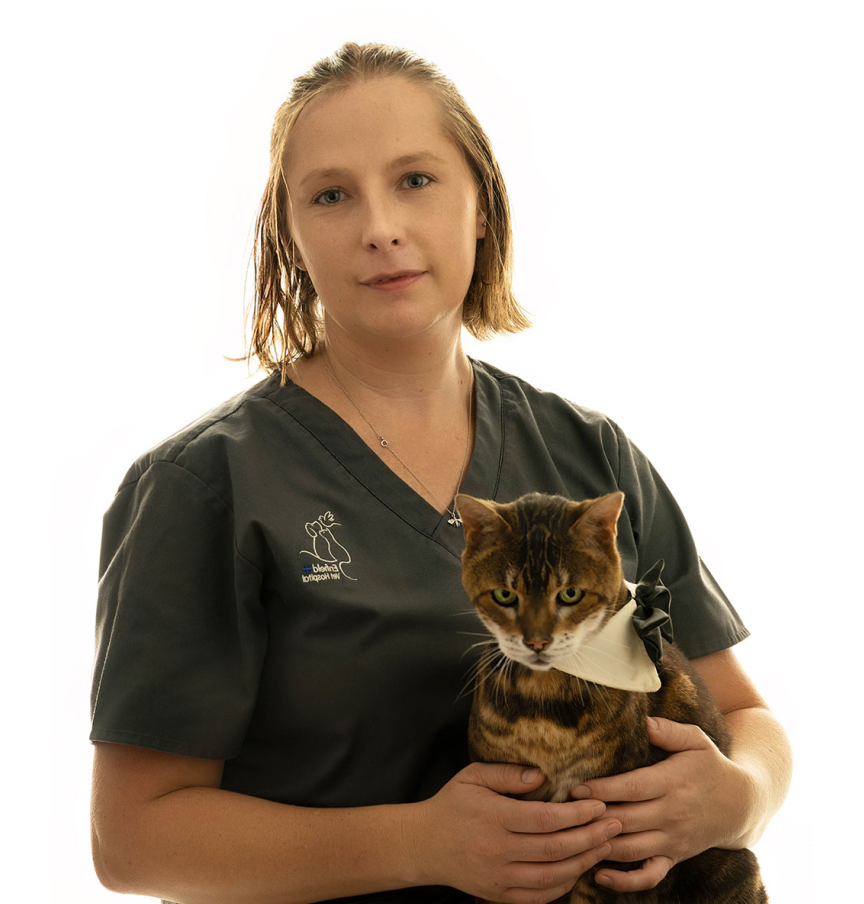 Storm came to work at Enfield vet, early 2022 as a temporary nurse. She fell in love with the clinic and didn't want to leave so was offered a permanent position. At work Storm enjoys being on reception and greeting patients as they walk through the door. She also likes to use her organisation skills to keep things tidy and running smoothly.
Her nursing interests are feline nursing and medical nursing. She also has an interest in wildlife.
Storm commutes to work from the Central Coast, where she lives on acreage with her beautiful horse, cat, dog and a bunch of free-range chooks. In her spare time, she enjoys trail riding in the state forest (her backyard), being outdoors. She also loves to cook.
Her favourite thing about Enfield vet is her colleagues and sweet patients.
Madeleine joined Enfield Vet in early 2023. She has been a veterinary nurse for over 13 years and has gathered her knowledge and skills from clinics in Sydney, Broome and Darwin. Madeleine's favourite parts of veterinary nursing are surgical nursing, dentistry and has an interest in exotic pets and wildlife.
Madeleine has a shared garden and has 2 resident dogs and a family of chickens who regularly try and make themselves at home with her!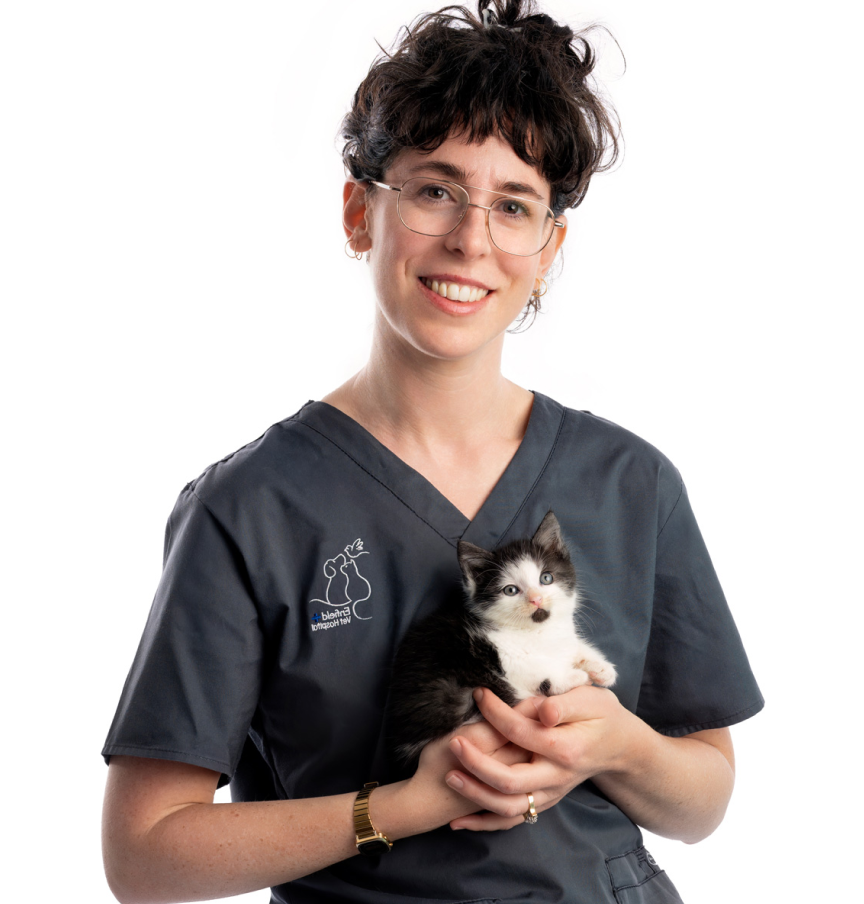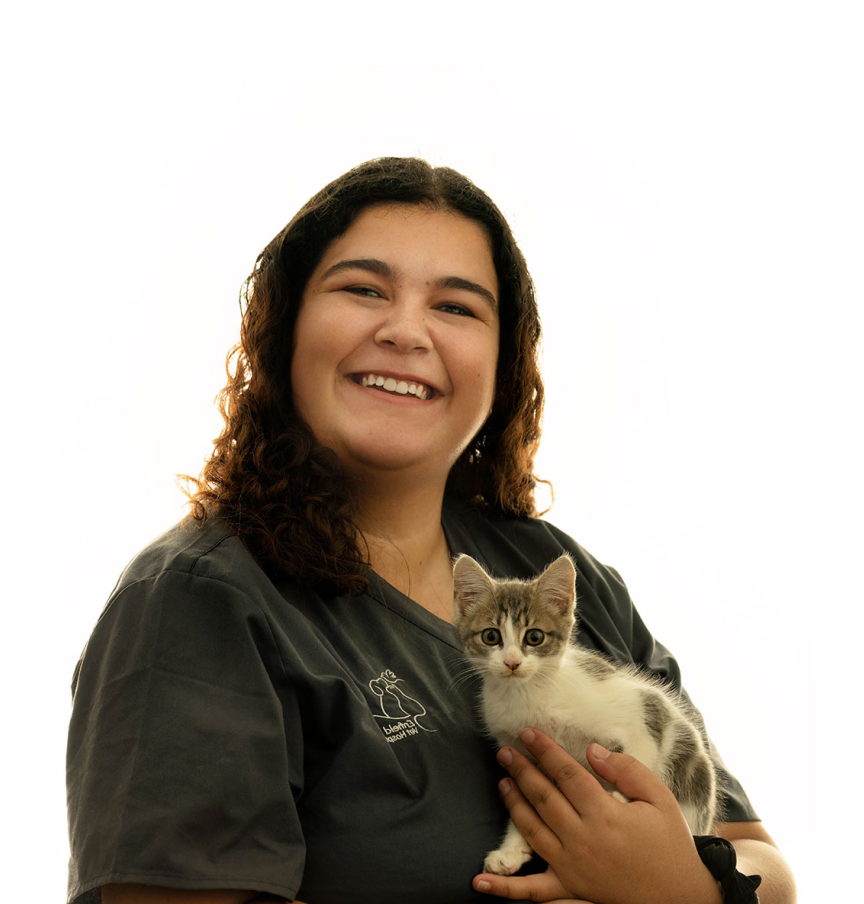 Kiera graduated with a Certificate II and III in Animal Studies from TAFE in 2021 and then recently joined us in mid-2022. She is currently studying a Certificate IV in Veterinary Nursing and has been doing her work placement with us at the clinic.
At home she takes care of her three guinea pigs, two Abyssinians named Bailey and Ivy and an English-crested and Dutch mixed named Harley.
Zoe has just recently joined us at Enfield Vet, having completed her Certificate II in Animal Studies in November of 2022. She is currently studying her Certificate III in Animal Care Services at TAFE and is thrilled to finally be joining the animal care industry, which has been a lifelong dream of hers. 
Zoe has three cats at home: AJ, Jilly, and Kirby, and has humbly accepted the "crazy cat lady" title. All of Zoe's cats were strays, which means Zoe has a soft spot for stray cats everywhere she goes! If it was up to her, Zoe would adopt every cat that she could.